Doek tennis shoes: How great things age
I have had these Doek canvas trainers - what could usefully be called tennis shoes - for five years. They have been worn once or twice a week, every week, during that period. So hundreds of times.
With bare feet in the summer, they've occasionally become smelly - but a deodorising spray deals with that.
With muck and rain during any season, they've become dirty. But I soak and then scrub them with soapy water, and that comes off.
The result is shoes that look very worn in, that are scuffed, frayed and even ripped - but not dirty or stained. Which is what you want I think. The kind of condition I like to find vintage in.
They've ripped where canvas shoes always do for me - at the joints, where the foot bends. This is pretty common, but exacerbated because my foot is wider than average for the length.
This always used to happen with the Converse and Vans I wore when I was younger. The difference with Doek has been that it took rather longer, and that the rubber around the sole has not cracked (presumably reflecting the vulcanisation).
Inside the shoe, the lining has slowly rubbed away around the heel, and the sole has become smoother. But again in both cases, a lot slower than with those cheaper brands.
These are probably not big things for most people. It's certainly debatable whether they're worth paying a lot more money for. But they're practical differences, rather just aesthetic. The shoes are more comfortable (particularly without socks) because the lining is still intact; and because the sole hasn't split, they're more functional.
In terms of style, I also think there's something rather elegant about a beaten-up tennis shoe.
Modern sneakers don't really age in this way, either because they're synthetics (so they just dull over time) or because they're a thin, treated leather (where the surface comes off).
A canvas sneaker is really very similar to a workwear chino, or a duck-cotton chore jacket - it's just a tough cotton that can get worn in and worn in. A leather trainer, by contrast, isn't really the same quality anything else leather we might cover.
Thinking about it, that might be a reason I wear canvas shoes so much more these days than the smart Common Projects-like trainer. Another is certainly their smartness, but even the best leather trainer doesn't age like a leather loafer.
As with last week's article about loafers and jeans, there's also something Ivy about tennis shoes worn in this manner.
It recalls a student putting on his sports shoes with the more expected chinos and button-down shirt, running off to a lecture. Perhaps even with a blazer if he's feeling subversive.
And because they're sports shoes of that era, they're necessarily smarter - fairly slim, simple off-white, with a design driven purely by function. Certainly no branding.
Which is why today they can have a sense of old-world elegance, even with holes in them. And why to my taste they're a nicer match for chinos and a button-down shirt than something much bigger and brighter.
There might also be, I think, a similar effect here to the one discussed in that loafers-with-jeans article. Except it's the other way round: a shoe that is more casual than the rest of the outfit, rather than smarter.
It's more limited, as I wouldn't wear these Doeks with grey flannels. But with smarter chinos or cotton trousers, and then a tailored overcoat over the top (as Oliver does below), you can see how the contrast works.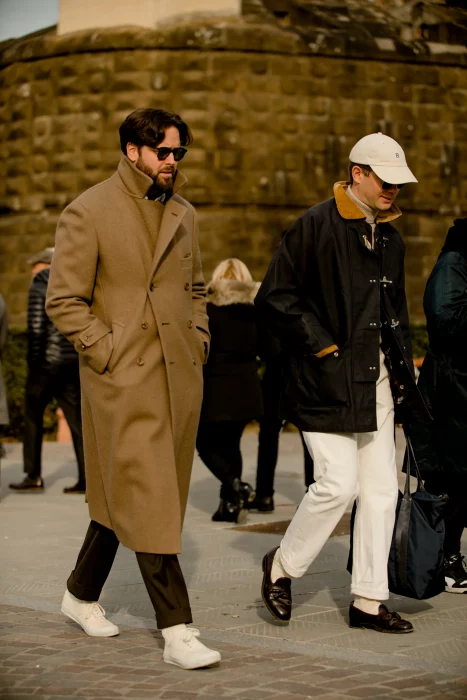 On the specifics of the shoes, Doek are a little slim and I size up slightly - to a UK 9, Japanese 28.
That means they're a little roomy with no socks in the summer, but perfect with a chunky sock in the winter. And no single size is going to cover that whole range of sock options.
I have tried the 'Basket' from Doek and the oxford-laced style, both in ecru. But somehow this 'Court' pair gets 90% of the wear. I think the derby style might be more versatile, even if the oxford is easier to wear with smarter things, and the Basket is a bit more chunky. (Though that might mean it fits more people.)
I haven't tried Wakouwa, from Anatomica, that now seems to stocked everywhere (Clutch, Drake's) partly because of that preference for a derby.
Are these Doeks a 'great thing'? Well, perhaps not. But they are more expensive (and in some ways better made) than the more common versions of the style, and I've certainly enjoyed how they've aged.
So I think we can allow them into the 'How great things age' series.
The chinos shown are the dark khaki Officer's Chino from Rubato (just the perfect shade - a little dark, a touch brown) and the shirt is a PS Oxford in white.
The watch is a seventies Speedmaster (much, much more detail here). And the belt is a woven suede from @tightly_stitched covered here.
Photography: Milad Abedi